September 19, 2013
Adam Marquardt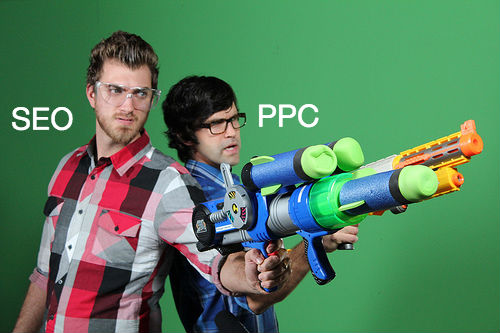 As a small business, you must understand the role that SEO and PPC can play as part of your broader marketing strategy. Determining the best balance between an SEO and PPC strategy will help allow for responsible budget planning and more effective results.
An SEO strategy uses strategic methods to improve a website's ranking in a search engine results page, which includes both on-site and off-site techniques. An SEO strategy campaign attempts to increase website rankings, and in-turn, traffic from search engines with no direct ad spend to the business.
The higher your SERP ranking for keywords relevant to your business, the more clicks you will naturally receive that may turn into new business. According to a study by online ad network Chitika, 33 percent of the clicks for a search go to the number one position, 18 percent for the second position, 11 percent for the third, and it goes down from there.
The primary disadvantage of this component to an inbound marketing strategy is that it can require a significant investment of time to become effective, depending on your industry's competitiveness. Many businesses require six months, a year, or more to reach a strong SERP position for their strongest keywords, even with a dedicated effort. The primary advantage is, given the time and consistent effort, you can gain positions ahead of your competitors and stay there without a direct cost on the clicks occurring.
A PPC strategy generally involves a direct cost to the advertiser. The cost of these ads is typically based on a CPC (the number of times that users click on the ads), or CPM (the number of times that ad is shown). Generally CPC is used for search ads, while CPM is used for display ads.
PPC ads can result in an immediate increase in website traffic, although this benefit comes at a direct price. Your PPC cost can vary greatly depending on your industry, keywords, bidding time of day and day of the week, device targeting, and of course... competition. We've seen bids as low as $0.01 per click and bids as high as $50 per click.
A Long-Term Strategy
Business owners should develop a long-term SEO strategy for long-term cost savings. Ranking in the top few spots for your most valuable keywords can save your business a massive amount of money while generating new business.
Take for example the legal industry. The Google Adwords Traffic Estimator shows that the average cost per click using the keyword "DUI attorney" is $15.71. Remember that you will incur this cost each time someone clicks on your ad, regardless of whether or not that click results in a conversion. A hundred clicks on that term alone would cost you an average of $1,571.00. At a modest 5% conversion rate, you are paying $314.20 per lead! Does it make sense to keep paying that high cost month after month, when instead you could be looking to enhance your strategy to organically rank for that keyword and increase the natural, "free" clicks to your site?
When properly implemented, an SEO strategy will increase the number of "free" clicks you are receiving, allowing you to decrease the number of "paid" clicks you are purchasing. And still deliver high quality (if not higher quality) leads.
Short-Term Strategy
PPC advertising may be a better choice when you are more limited on time to gain sales. This type of advertising will attract website traffic immediately, and much more quickly than an SEO campaign. An SEO campaign is also more time consuming to maintain than a PPC campaign.
An SEO campaign cannot guarantee a particular placement on a SERP, regardless of the effort you spend in adjusting your SEO strategies. Search engines are continually modifying their algorithms that determine how to rank web pages, and these algorithm changes can have a profound impact on your website's SERP ranking by the minute. Not to mention your competitors are trying to out-strategize you as well. However, while a PPC campaign cannot guarantee a particular ad rank position either, there is more of a guarantee of immediate results. Your ad's position is a combination of your bid price and Quality Score.
How Quality Score is Calculated
Quality Score is an x-factor in the Google AdWords system. It's a score based on a scaled of 1-10. One being terrible, resulting in very little showing of your ads. And ten, being ideally perfect and very rare, but not impossible.
Your ads rank based on the formula: Max CPC x Quality Score. In this way, you can increase your ad rank by increasing your Quality Score. And you can increase your Quality Score by increasing your ad performance (ad copy relevancy, landing page relevancy and performance, etc).
For example, if you increase your Quality Score by two points, it can dramatically lower the CPC required to rank highly.
If $5 bid x 5 Quality Score = 25, then a $2.50 bid x 10 Quality Score = 25. See the impact? And a higher Quality Score overall means a more expansive broad keyword match exposure to catch that 20% of new searches Google sees every month.
So what does this mean for my SEO vs PPC budget?
When starting out, the budget and time may be more focused on PPC than SEO. The reason being, PPC produces immediate results in the form of conversions.
However, you should begin working on your SEO strategy immediately. The sooner your business starts ranking for the same keywords you are bidding on, the sooner you can stop spending as much money on PPC ad spend every month and still observe the same value in leads generated. Not to mention, your SEO (if you're doing it right) is built on valuable assets that will never go away. PPC on the other hand, when you stop spending money, your ads (and rank) disappear.
Summary
Business owners need not think of their online marketing strategies as a simple SEO vs PPC decision. Businesses routinely combine both strategies to drive traffic to their website. A combined marketing campaign can provide the immediate increase in traffic from PPC ads and the sustained low cost benefits of SEO that will maintain website traffic over the long run.
Image Credit: rhettandlink
Topics: