February 18, 2014
Ericka Lewis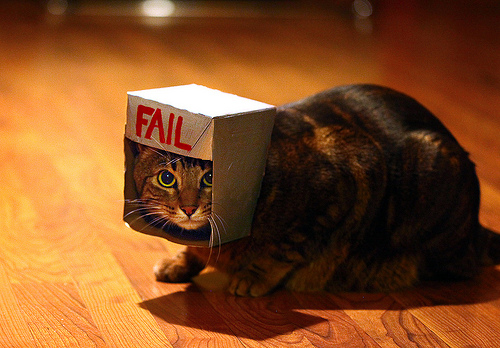 An active social media presence is the new standard of engaging with your audience. If your business has zero social media presence, you're missing out on a chance to build and expand a loyal following.
Without participating in online chatter, your business is at serious risk of falling behind your competition.
While you might think social media is a no-brainer, it's a double-edged sword that can seal your doom if you're not careful. Here are some of the top social media marketing mishaps that are sure to teach you a few lessons you certainly wouldn't want to learn the hard way.
1. The Disgruntled Employee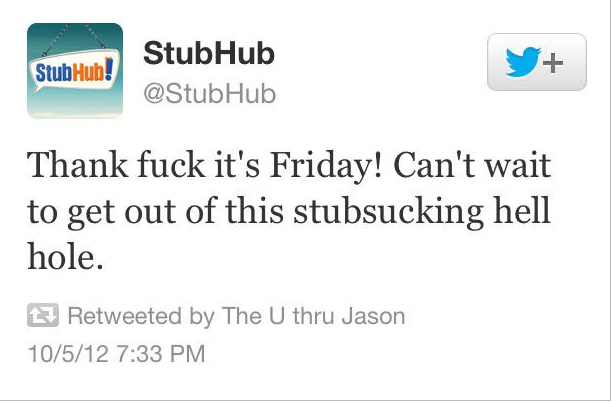 In 2012, an angry employee of StubHub, the online ticket agency, referenced their work environment as a 'stubsucking hell' in association with other profane words on the company Twitter account. Within an hour, the tweet was removed with a follow up message that apologized for the 'unauthorized' comment, but not before the damage was done.
The moral of the story is, know who's handling your social media accounts and be aware of their attitude toward the company. If an employee seems to be losing their patience or is particularly upset with the company, they might not be the best face for your online presence.
2. The Insensitive Offer
Here's another Twitter fail. During Hurricane Sandy in 2012, companies such as Urban Outfitters, Gap and American Apparel tweeted that they were offering free shipping and encouraged people to shop in lieu of the disaster without much thought or compassion.
They failed to consider that shopping wasn't much of a priority to those who were being forced to evacuate their homes.
It's never a good idea to market off of a tragic event like natural disasters. This type of social media marketing strategy comes off as completely insensitive and even downright ignorant.
3. The Dish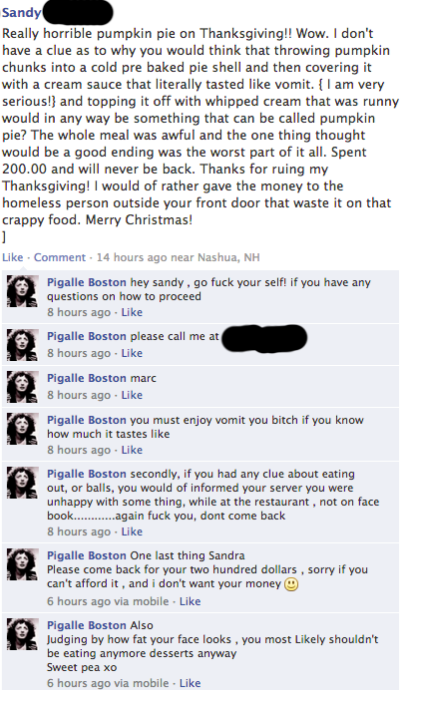 An unsatisfied customer publicly shamed a Boston restaurant named Pigalle on their business Facebook page in 2012 after the customer felt the dessert she ate was sub par. Instead of removing the comment or responding with an apology, the restaurant replied – seven times – with a vulgar, unprofessional and frankly, horrific outburst of profanity and abusive language.
Needless to say, the restaurant's social network audience were absolutely appalled. This internet stunt surely didn't produce positive attention.
If someone is unsatisfied with your product or service, reacting negatively will only make the situation worse. If the complaint has validity, see if you can solve it publicly. Be sincere and offer reasonable solutions. If the other party is not reasonable, at least you tried and everyone will see that.
Accept criticisms gracefully. Offer a humble apology and try to turn the situation around with a creative and sincere gesture that will appease the customer.
4. Account Confusion
An American Red Cross employee accidentally mixed up accounts when they posted a blurb about getting drunk on Dogfish Head's Midas Touch beer on the Red Cross Twitter page. Definitely not a great public relations move.
The employee was quick to apologize, humbly admitting her unfamiliarity with their social media management software with a little bit of humor. This proved to be a graceful recovery for Red Cross. Their mistake turned into an unexpectedly powerful social media campaign thanks to Dogfish amusingly using the hashtag #gettngslizzerd to generate donations for Red Cross. If you mess up, admit it. The audience is human just like you. Don't be afraid to admit your blunders. If you can make light of your errors, you can quickly turn the tide and even earn some fans for your humility along the way.
5. Incriminating Footage
Do you remember the Dominoes incident of 2009 when two employees thought it'd be funny to post YouTube videos of their unsanitary antics with food at work?
When the videos went viral, the two not only faced felony charges but single-handedly dented Dominoes' reputation. The lessons learned here? Be sure your management staff is aware of what is happening at your business, but more importantly, create a work environment that values employees. This will reduce the chances of your brand being soiled.
6. TGI Friday's Fake Out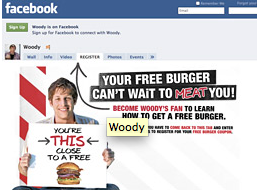 TGI Friday's restaurants launched a fake Facebook page back in 2009 under their #1 fan's name, Woody. A free hamburger was offered to fans if the page could acquire 500,000 followers by September 30th. When the mark was hit a couple weeks before the deadline, the page was mysteriously deleted, leaving fans to wonder, "where's my burger?".
Here's a good advice in light of this: never ever (ever ever ever) break your promises to your audience. Failing to uphold your promises is a fast track to losing customer loyalty and ruining your credibility.
7. The Home Town Bash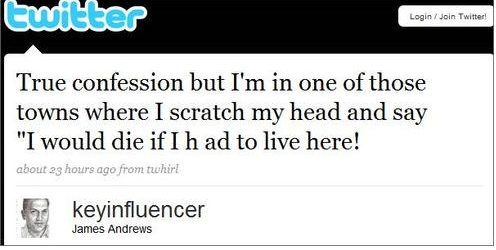 In 2009, Ketchum, the PR agency for Fedex made a big mistake when its VP tweeted that he would die if he lived in Memphis, Tennessee -- the headquarter location he was en route to for a visit with big-time client, Fedex.
Here are the two golden rules of business: never insult a client and never injure their hometown pride. Think before you send any message into online space. Who might you offend? If you have no qualms about who you might possibly offend, have at it and God speed.
8. Audience Alienation
The CVS Pharmacy twitter handle @CVS_Cares inadvertently slapped their audiences in the face when they decided to make their tweets private so that each follower must be approved before tweets could be seen.
The lesson learned here, folks, is to make sure your brand and your actions match. Making your accounts exclusive and keeping your audience at bay doesn't appear to be a very caring move. What an irony. The best recipe for engagement is openness and sincerity.
9. The Social Media Snooze
A Comcast employee accidentally drifted off while on the job in 2006 and the customer he was serving caught the snooze fest on video and posted it to YouTube. When the video went viral, snagging over a million views, the message was clear; Comcast service is below expectations. This is a perfect example of how social media can easily throw you under the bus if you're infuriating more customers than you are pleasing.
If you don't have a commitmment to service quality, you'll be the infamous laughing stock in the realm of social media.
10. Taking Credit for Disaster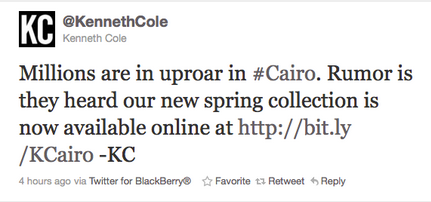 Kenneth Cole made a big mistake when suggesting on Twitter that the excitement over their new spring collection was responsible for causing the riots in Cairo, Egypt. This was another example of a social media marketing slip up that came off as beyond insensitive. Imagine, a whole nation with a history of oppression is putting their lives on the line in a march for their future and freedom --nope Kenneth Cole, it wasn't because of you.
It's never well received when you're trying to make money off of the misery and suffering of others. Just don't.
11. Lack of Monitoring
In 2009, Amazon fell behind in their social media monitoring just in time to allow negative hashtag communications to transpire after their website was hacked and all books by gay, lesbian, bisexual, and transgender authors were removed.
By the time Amazon's social media marketing strategy kicked in to try and explain, the damage was already done.
Don't let your guard down folks. Always monitor your social media channels. Additionally, it doesn't hurt to have a few contingency plans in place.
12. Feeding the Fire
Protests erupted on Nestlé's Facebook page over their alleged use of palm oil in chocolate products from deforested areas of Indonesia.
Instead of responding with professional accord, the reply came off as defensive and further fueled the angry protests.
Whatever you do, it's not a good idea to add fuel the fire. Create a protocol for what you're supposed to do in instances of negative press. Hint: gasoline is not the answer.
To help support a healthy reputation online, create policies that hold employees accountable for their social media activity when it directly relates to the company. See to it that your social media marketing strategy approaches online activity with a bulletproof plan of action.
Image Credit: Chuckumentary
Topics: